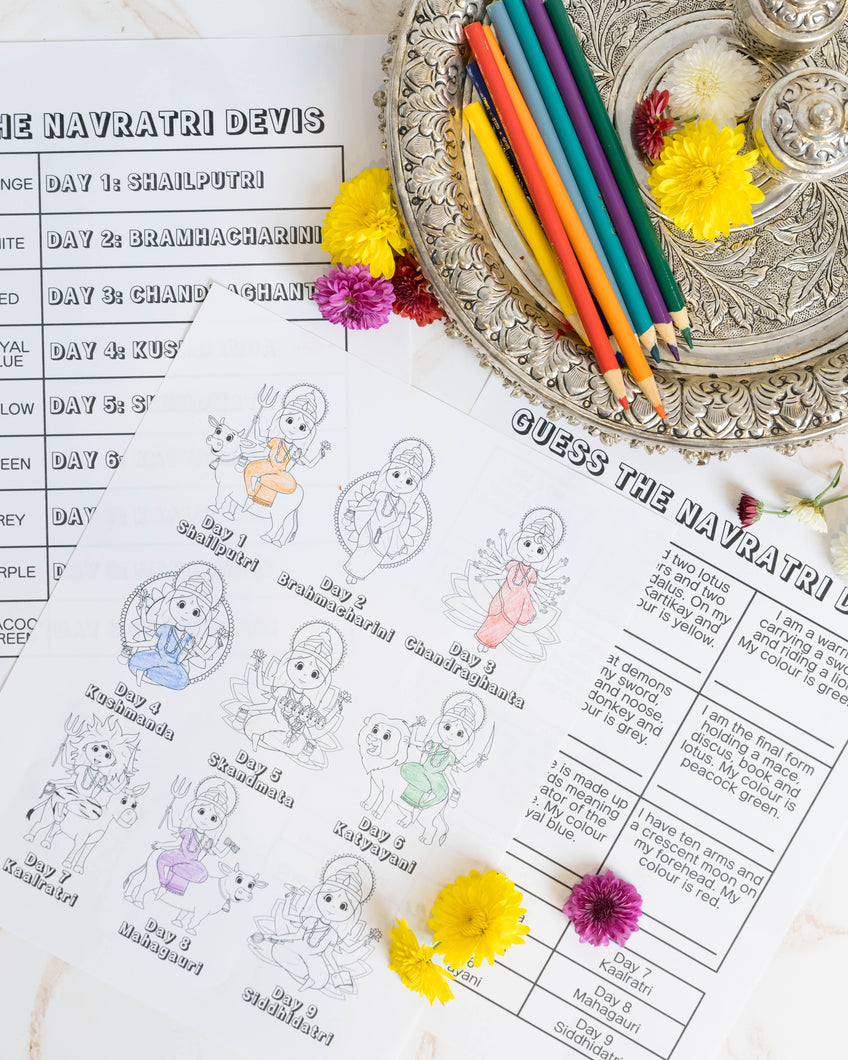 At Kulture Khazana, in collaboration with Love Laugh Mirch, we are thrilled to introduce a vibrant and educational set of Navratri coloring and activity pages. Designed especially for kids, these printables offer a delightful way to learn about the significance of the 9 days of Navratri and the colors associated with this joyous festival.
What's Included:
🎨 Navratri Coloring Page: Let your little ones embark on a creative journey as they discover the importance of each Navratri day's color. With intricate designs, they can color, draw, and express themselves, all while learning about the festival's rich heritage.
🤹 Navratri Activity Page: Dive into the fun with engaging activities that are not only entertaining but also educational. A matching game of colors and Navratri Devis.
🌈 Learn While You Play:
Navratri is a festival that symbolizes the victory of good over evil and celebrates the Hindu goddess Durga. These coloring and activity pages are designed to help kids understand the essence of each Navratri day and the colors associated with it. They can immerse themselves in the cultural significance of Navratri while having a great time.
🤝 A Collaboration of Culture and Creativity:
This initiative is a collaboration between Kulture Khazana and Love Laugh Mirch, two brands passionate about celebrating and sharing the vibrant and diverse culture of India. We aim to bring the beauty of Navratri into your homes and classrooms in a fun and educational way.
🌟 Get Ready for a Colorful Adventure!
Download our Navratri coloring and activity pages today and watch your kids embark on an exciting journey to learn about Navratri's significance and the colors that light up this festive season.
Celebrate Navratri with Knowledge and Joy!
We hope these coloring and activity pages add a special touch to your Navratri celebrations.